The 2019 Dipsea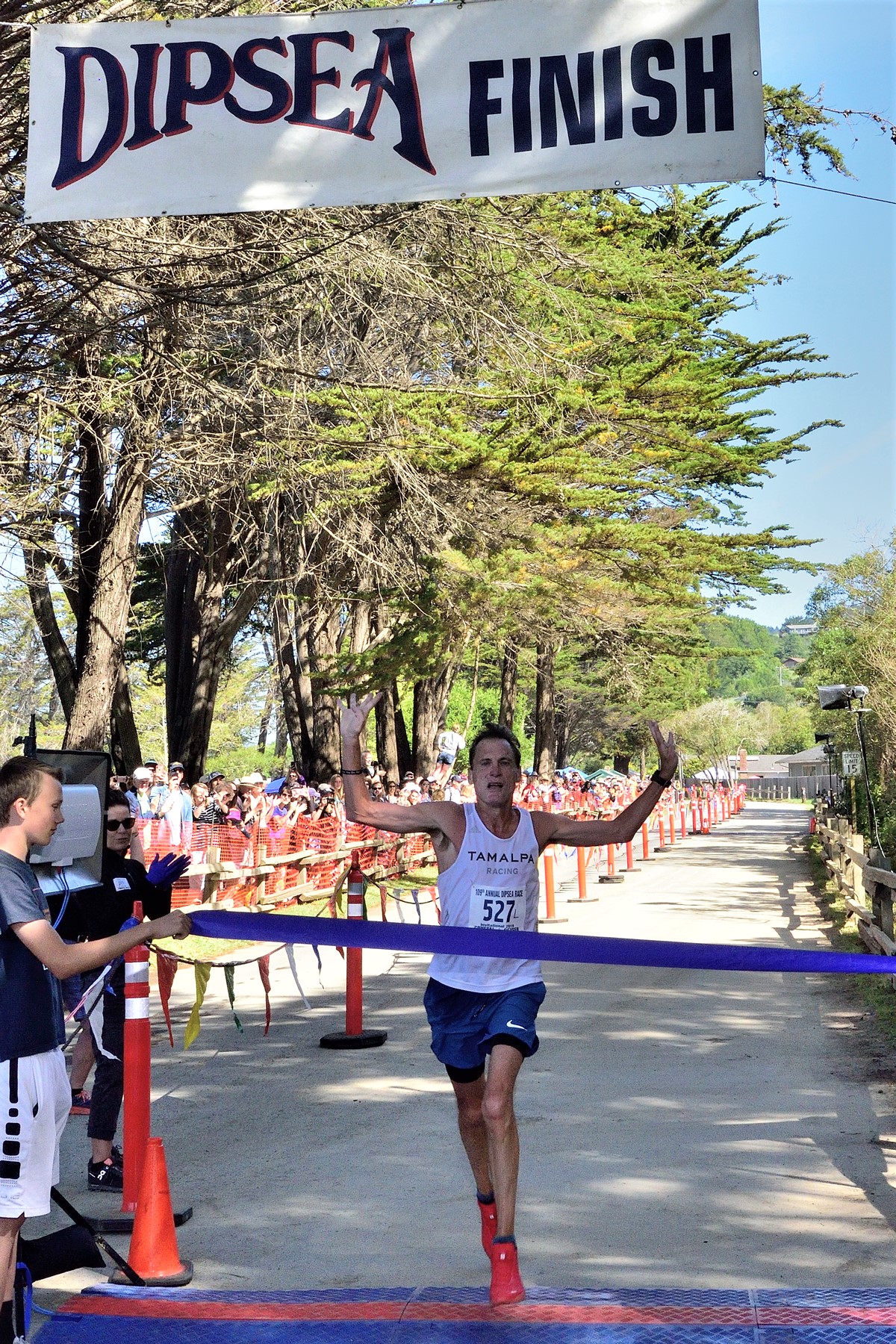 Photo By Steve Blose
Brian Pilcher was in a big hurry in the 109th Dipsea. He had extra motivation to win the race for a dear friend and a plane to catch to go to France afterward.
With a 13-minute head start, the 62-year-old retired real estate financier returned to the 7.5-mile trail race from Mill Valley to Stinson Beach for the first time since winning it three years ago for the third time and proceeded to win it a fourth time on Sunday. Pilcher's four Dipsea victories in 10 years ties him with Shirley Matson on the all-time Dipsea wins list and trails only Sal Vasquez, who won seven.
Both Vasquez and Matson are in the Dipsea Hall of Fame and Pilcher is on course to join them.
"This may been my best (Dipsea) but I wasn't sure I was going to make it to the starting line after my best friend died last week. I was a mess," said Pilcher who clocked an actual time 59:28. "It was tough. I wasn't sure how it was going to go today."
Pilcher dedicated his winning effort to Mark Richtman, a fellow elite runner from the Tamalpa Club, who is missing and presumed drown following a solo kayak trip to Tomales Bay earlier in June. Numerous runners in the field of 1,500 wrote "Run 4 Mark" and "Long Live Mark" to honor the seven-time Dipsea Black Shirt winner.
Pilcher's main competition chased him all race. Fifty-nine-year-old Mark Tatum of Colorado Springs, bidding to become the first non-Californian to win the Dipsea since 1986 and first male non-California to triumph in the race since 1975, placed second by one minute and 24 seconds.
"Coming into the race I thought I had a chance if he had a bad day," Tatum said. "I'm a fan of the history of this race. That's one reason I do it. The history and all the great runners who runs it. What other race gives all the former winners a head start and dares you to catch them?"
Alex Varner of San Rafael, starting 12 minutes behind Pilcher, placed third, yet set the record for the fastest time in the Dipsea with his ninth "Best Time Trophy" performance. His actual time was 49:30.
"This (the Dipsea) is something I probably care about a little too much," said Varner, who has not yet won the race. "Nine has been a target for a while, and I couldn't be happier."
Neither Varner nor Tatum however ever laid eyes on Pilcher until they crossed the finish line so Pilcher never felt from the heat from behind, though the 109th Dipsea may have been the hottest race day since 2002. When Tatum, who had to stop in the race once because of calf cramps, finally did, he said to Pilcher: "I didn't see you."
"That's the way I like it," Pilcher quipped back.
Pilcher, on the 10th anniversary of his first Dipsea win, didn't slow down for anything, including water near Insult Hill. He reached for a cup of water and it fell under a table.
"You don't need any help, Brian," Varner joked.
Chris Lundy, the 48-year-old two-time defending Dipsea champion from Sausalito, finished fourth and Clara Peterson, a two-time All-American cross country runner from Duke and now mother of four from Corte Madera, recorded her highest Dipsea finisher ever with a fifth place. Her time of 57:56 earned her the "Fastest Time Female Award" and also helped Tamalpa Club win the team trophy for the first time in five years. She teamed with Pilcher, Diana Fitzpatrick, Wayne Best, and Sissel Berntsen-Heber to claim that trophy.
Diana Fitzpatrick and her 26-year-old daughter, Katie, won the Allan Beardall Family Award, while a pair of Marin Catholic students, Gigi Clifford and Lyle Rumon, won trophies as the First High School Girl and Boy Finisher. Paddy O'Leary, 31, of San Francisco was the first finisher from the Dipsea Runner's Section with an incredible time of 50:57.
were multiple first-time Dipsea Black Shirt winners in the 109th Dipsea, led by 41-year-old Jorge Maravilla of Mill Valley, two-time winner of the San Francisco Marathon making his Debut debut. Bradford Bryon, 61, of Penngrove, meanwhile, won his 23rd Dipsea Black Shirt, tieing him with Steve Stephens for second most all-time. Bryon received his 23rd Black Shirt in the post-race awards ceremony from 81-year-old Russ Kiernan, who owns the most Dipsea Black Shirts in the race's history with 30.
Pilcher wasn't around to accept his Black Shirt nor his Jerry Hauke Memorial Dipsea Champion Trophy, which he designated his friend, Tim Wallen, to accept on his behalf. Pilcher was at San Francisco International Airport preparing to fly to Paris for a biking trip.
Longtime volunteer and White Barn team captain David Crowne was recipient of the Red Tail Hawk Award for "Leadership, Dedication and Sportsmanship," and 81-year-old Dr. Alan Weber, the oldest male runner in the Dipsea who competed in his 33rd Dipsea on Sunday, was named the winner of the Jack Kirk "Dipsea Demon" Award for "dedication, perseverance and performance over time." The Norman Bright Award for "Extraordinary Effort in the Dipsea Race" was presented to Chet White, who was inspired to return and run in the Dipsea this year after suffering third degree burns over 35 percent of his body rescuing his dogs from their crates when he house in Moss Beach was destroyed by fire last October. "The Dipsea Race is what keeps me going and family together," he said.
Runners from a total of 28 states plus the District of Columbia were entered in the 109th Dipsea and came from as far away as New Hampshire and Florida. There were runners entered from five foreign countries (France, England, Switzerland, Australia, and Japan). The oldest runner entered was 82-year-old Dipsea Hall of Famer Eve Pell from Mill Valley and the oldest male runners were William Seawell of San Rafael, Alan Weber of Mill Valley, and Norman Pease of Orinda. The youngest female entered was 7-year-old Arielle Pomerantz of Mill Valley.


CLICK HERE FOR THE FINAL 2019 DIPSEA RESULTS IN ORDER OF FINISH

CLICK HERE FOR THE FINAL 2019 DIPSEA RESULTS IN ALPHABETICAL ORDER

CLICK HERE FOR THE FINAL 2019 DIPSEA RESULTS BY HEAD START GROUP





The 2019 Awards

Champion:
Brian Pilcher
59:27
(46:28, 13 Minutes Head Start)
2nd Place:
Mark Tatum
58:51
(47:52, 11 Minutes Head Start)
3rd Place:
Alex Varner
49:29
(48:30, 1 Minute Head Start)
4th Place:
Chris Lundy
59:16
(49:16, 10 Minutes Head Start)
5th Place:
Clara Peterson
57:56
(49:57, 8 Minutes Head Start)
Fastest Time Male:

Alex Varner
3rd Place
49:29
(1 Minute Headstart)
Fastest Time Female:

Clara Peterson
5th Place
57:56
(8 Minutes Headstart)
First High School Finisher - Boy:

Lyle Rumon
18th Place
56:17
(3 Minutes Headstart)
First High School Finisher - Girl:

Gigi Clifford
61st Place
1:07:35
(9 Minutes Headstart)
Winning Team: Tamalpa Runners

1.
Brian Pilcher
1st Place:
59:27
2.
Clara Peterson
5th Place:
57:56
3.
Diana Fitzpatrick
9th Place:
1:10:40
4.
Wayne Best
10th Place:
>
56:48
5.
Sissel Berntsen-Heber
12th Place
1:07:57
Alan Beardall Award: Winning Family

Diana Fitzpatrick
9th Place
1:10:40
(20 Minute Headstart)
Katie Fitzpatrick
71st Place
1:07:20
(8 Minutes Headstart)
First Finisher-Dipsea Section

Paddy O'Leary
499th Place
50:57
(1 Minute Headstart)
Jerry Hauke Perpetual Award (The Red Tailed Hawk)
"Leadership, Dedication and Sportsmanship"
David Crowne, Longtime volunteer and White Barn team captain
Norman Bright Award

"Extraordinary Effort in the Dipsea"
Chet White
1332nd Place
2:21:07
(8 Minutes Headstart)
Jack Kirk "Dipsea Demon" Award

"Dedication, Perseverance and Performance"
Dr. Alan Weber
(25 Minutes Headstart)
Check back for more news about Dipsea Race events!